Art is my medium... to impact social change and community empowerment...
---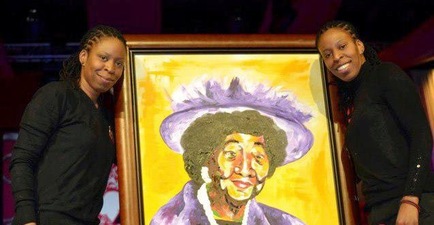 DST Centennial Celebrations 2013
Rachel and Rebecca, both members of Delta Sigma Sorority Incorporated, celebrated the sororities 100 year anniversary beginning in January. Starting at the DC Convention Center, Rachel and Rebecca painted a picture of Dorothy I Height at the request of Past National President Gwendolyn Boyd. They also traveled to different torch events painting live at various events.
---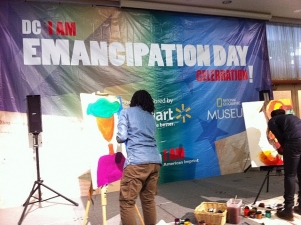 America I Am Show
April 16th, 2011: Emancipation Day Celebration. On April 16, 1862 President Lincoln signed the Compensated Emancipation Act, For the release of certain persons held to service or labor in the District of Columbia, making DC residents the "First Freed" by the federal government. This show, in celebration of this historic event, featured live painting by Rachel and Rebecca Crouch. The show also included poets and African dancers.
---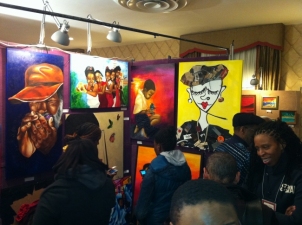 Gallery D'Estee Show
March 4th, 2011 : Delta Sigma Theta Sorority Incorporated is a non-profit, Greek-lettered sorority of college-educated women who perform public service and place emphasis on the African American community. Keeping in with this tradition of service and giving, Delta Sigma Theta Sorority Incorporated along with twelve visual artists came together to raise money for various charities.
---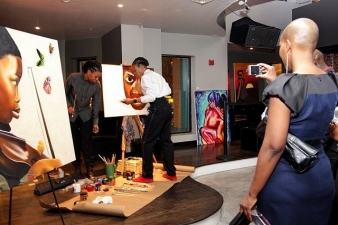 Fundraiser for Haiti Show
January 12, 2010: Haiti has experienced tragedy and turmoil for hundreds of years and yet the resilience and spirit of its people have kept the island nation going through many rough times. The recent earthquake was perhaps, the most devastating of the natural disasters to hit to country. In large part due to the sale of live paintings by Rachel and Rebecca Crouch, $12,000 was raised and donated to various charities to aide in relief efforts.